I was glad when they said to me, "Let us go to the house of the Lord!" (Psalm 122:1)
There was a great spirit in the sanctuary this past Sunday, as LAC opened the doors of the sanctuary for the first time in a while. As your new pastor, it was a wonderful blessing to experience the warmth and faith of this community's worship, and I am grateful for the welcome that many of you extended to me after the service. In our time with God and one another, we were able to celebrate the gifts of mothering and parental love, and also the amazing musical gifts that Douglas Kostner has brought to this congregation.
Along with many others, I am grateful to those of you who worked so thoughtfully and cautiously — but also hopefully and joyfully — to attend to the safety protocols that are required. Rest assured that we will continue to prioritize health and discretion however and whenever we gather in person. We will also work to maintain varied options for engagement and connection as each person determines his or her own level of comfort with social interaction.
For those who are ready and willing, I hope you will join us this coming Sunday as the organ sings, the Larchmont Symphonia performs, and the Word of God is read and proclaimed. In person, online, or in spirit, all of God's children are welcome to connect with us in worship at Larchmont Avenue Church!
Blessings,
Peter
Celebrating 15 Years at LAC
This Sunday, as we welcomed Rev. Bynum, we also celebrated our Director of Music Ministry Douglas Kostner's 15-year Workiversary!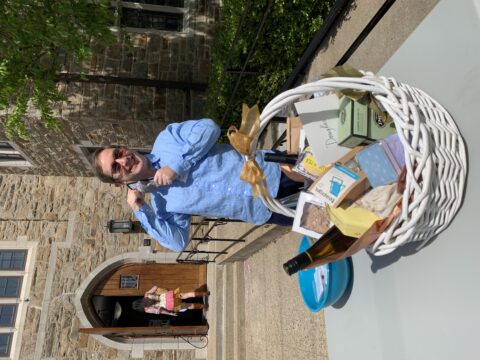 Douglas writes:
"I'm flattered, honored, appreciative, and really moved by your words, pictures, and the memories you have shared! And even more, I'm inspired to continue to work towards creating something beautiful with you for the joy of worship and the glory of God. Thank you!"
Congratulations, Douglas, and blessings as you continue to share your ministry of creating music, nurturing community, and inspiring wonder!