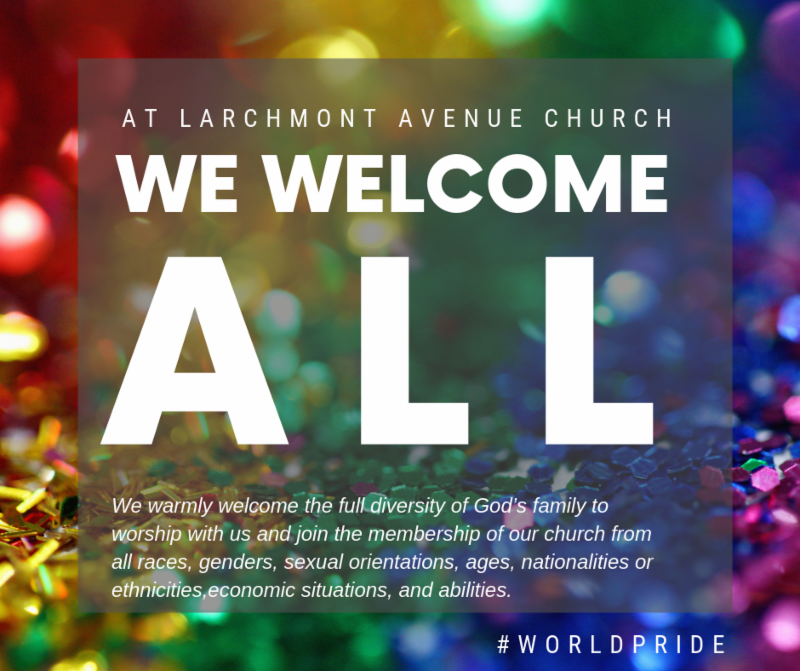 Our faith assures us that, in the beginning, all humankind was created "in the image of God" (Genesis 1:27) and that each and every individual is "fearfully and wonderfully made" by our Creator (Psalm 139:14). Moreover, because God's love for each and every one of us is so great, we – like the apostle Paul – are also convinced that nothing in all creation "will be able to separate us from the love of God in Christ Jesus our Lord" (Romans 8:38-39).
Because these truths are embedded in the foundations of our faith, we at Larchmont Avenue Church have committed ourselves to the full inclusion and joyful welcome of all persons. Specifically, we want LGBTQIA+ people to know that our community of faith is a safe and welcoming space where their faith, their dignity, and their value in the eyes of God will be respected and affirmed, and where their gifts for ministry will be embraced and celebrated.
While there are many theological reasons to embrace this calling, there is one that speaks right to the heart of our commitment. For more than 400 years, Presbyterians have adhered to a guideline of scriptural interpretation that we call the "Rule of Love." The rule rests on the teaching of Christ that there is nothing greater or more important in this world than to love God and love our neighbors. "This is my commandment," Jesus says, "that you love one another as I have loved you" (John 15:12). This core belief guides us as we read, interpret, and live into the calling of the Bible. Therefore, if someone offers an interpretation of scripture that is not loving… if a reading of the Bible suggests something contemptuous, degrading, or dismissive of another person… then that interpretation must be wrong. Given that the revelation of God in Christ establishes that God is love, the written Word of God cannot and should not be understood in ways that contradict that love.
All of this leads us to warmly welcome all people, to work to see the image of God reflected in each face, and to do our best to exhibit the radically inclusive love of God to the world.
Blessings and peace,

Rev. Dr. Peter Bynum, Senior Pastor