Youth are a Vital Part of Our Ministry & Mission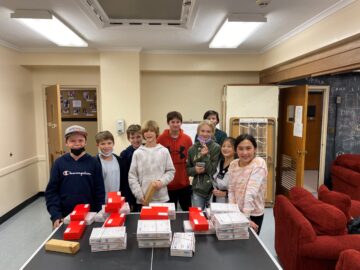 Through worship, fellowship and service, we empower youth to become faithful disciples in a complicated world. We invite all middle school and high school youth to be active members of the LAC community.
Youth Fellowship in Worship
Worship is the centerpiece of our community, and youth regularly participate in the weekly service, as well as the annual Youth Sunday. Youth share their gifts through singing, playing instruments, readings, skits or dance!
TGIF (Thank God its Faith/Fellowship/Fun): Middle Schoolers
All 6th, 7th and 8th graders are invited to join TGIF. With a focus on working together and learning and growing in faith, TGIF offers a mix of activities—including food, games, service projects, discussions and prayer. TGIF participates in preparations for the Youth Midnight Run each year, and regularly bag groceries at the Larchmont/Mamaroneck Hunger Task Force. Led by Associate Pastor for Youth and Family Ministries, Anna Grace Claunch, TGIF will meet on Wednesdays from 5:00 p.m.-6:30 p.m. (except during school vacation weeks), and a few other times for service projects.
SHIFT (Senior High Faith/Fun/Fellowship Time): High Schoolers

SHIFT is at the heart of our Senior High Youth Ministry.  We meet every Wednesday from 6:00 p.m.-7:30 p.m. to share dinner with TGIF, our lives, and our faith. SHIFT service projects include going on the Midnight Run with LAC adults and our partners at Larchmont Temple. We join other partners in domestic or international mission trips. We play games, have discussions, and reflect on what it means to be faithful teenagers growing up today. Sometimes we watch movies or clips that are thought provoking; sometimes we read scripture; and every time we pray – for our world and each other. SHIFT is a community of real teenagers, trying to make our world better and live the lives we are called to as disciples of Christ.
For more information about SHIFT or any youth activities, contact Anna Grace Claunch, Associate Pastor for Youth & Family Ministries at
agclaunch@lacny.org 
or (914)834-1800 ext. 303.