We are thrilled to return to In-Person Sunday School at LAC beginning September 11, 2022!
Learn more about opportunities for children, youth, and families by watching this video!
Register for Sunday School
You can register your Preschool-5th Grade students via this LINK! (There are a few hard-copies at the Ushers' Station for walk-ins.) Parents are asked to register their children each year, using a single form for all children in a family so that we can keep all information as up to date as possible.
Helping our children learn and grow in faith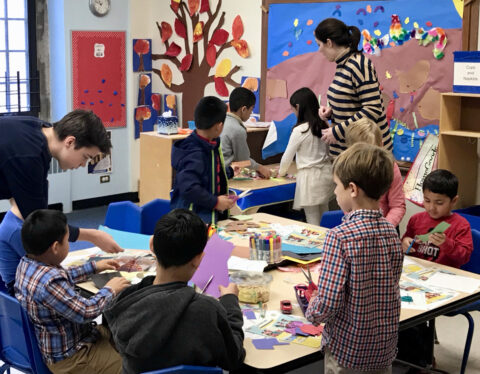 With programming for students ages 3 and upwards, we prioritize faith formation experiences that let each child know they are loved by God and by their church family. Four out of five Christians make a conscious or subconscious choice about their faith between the ages of 4 and 14. These years are critical as a young person matures and forms a lifelong faith connection. Our goal is to help our children learn and grow in Christian faith through education, music, worship, service projects and fellowship.
Fall 2022 Schedule
As we know that parents are their children's primary faith educators, we believe starting worship with children in the pews with their families so that they can experience prayer, music, and scripture within the context of worship. Following a special Children's Message, little ones may leave with their teachers  for Sunday School in the library. Currently, we divide students into two groups: preschoolers-first graders and third-fifth graders. Parents may pick up their children from the library following worship.
On Communion Sundays (the first Sunday of the month), students begin in Sunday School at 10:00 a.m. and will re-join their families following the sermon so that they may participate in the Lord's Supper.
Faith Formation is a core part of our youth groups for Middle and High School students, TGIF and SHIFT!
Workshops with Pastor Anna Grace
This year we are launching a new program to help foster relationships with our Associate Pastor for Children, Youth, and Family Ministries, Rev. Anna Grace Claunch! Once a month, Rev. Anna Grace will offer an all-ages workshop in which students will explore the question, "What does it mean to be loved by God?" through music, games, and crafts! These workshops will take place on: 10/9, 11/13, 12/11, 1/8, 2/12, 3/12, and 4/23.
Other Special Events this Fall:
Block Party & Sunday School Kick-Off: 9/11 at 10:00 AM
Fourth Grade Bible Presentations: 9/18 at 10:00 AM
Children's Sabbath Service: 10/16 at 10:00 AM
Young Families Gathering: 10/16 at 4:00 PM
Blessing of the Animals: 11/6 at 2:00 PM
Advent Workshop: 12/4 at 11:00 AM
Christmas Pageant: 12/18 at 10:00 AM
Christmas Eve Family-Friendly Service: 12/24 at 5:00 PM
Christmas Day Caroling: 12/25 at 10:00 AM
Nursery
Childcare during worship for children age 2 and younger will resume on September 11th.
Click here to view our Child Protection Policy.
Review our Emergency Evacuation Plan here.