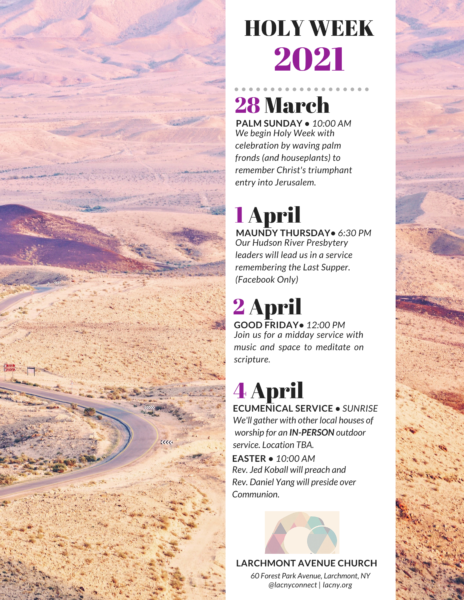 Dear LAC,
Many of you have been writing in and calling the office to ask about Holy Week!
Here is the game-plan for our online worship together:
Palm Sunday (3/28) will be a regular Sunday morning (10 AM) worship service, led by Rev. Jed Koball. We invite you to have a palm frond or hard house-plant ready to wave while we shout "Hosanna!" and sing "All Glory, Laud, and Honor." (Read more below about a special opportunity to submit your Palm Sunday Greetings!)
Maundy Thursday (4/1) will be led by our Hudson River Presbytery leaders and will be streamed Live on Facebook (and not LAC's website) at 6:30 p.m.
On Good Friday (4/2), we will share in a midday service with special music and space to meditate on scripture at 12:00 p.m.
For early risers, our ecumenical partners will gather for an in-person sunrise service on Easter morning. Details regarding time and location are still being confirmed, but watch out for an update in Church Notes.
Finally, LAC will hold one service on Easter (4/4) morning at 10:00 a.m. Rev. Jed Koball will preach and Rev. Daniel Yang will preside over Communion–so save a hot cross bun (or special Easter treat of choice) to celebrate with the Sacrament with us virtually!
With Grace and Peace,
Your LAC Worship Team
Share Video Greetings for Palm Sunday & Easter!
For Palm Sunday, rustle up some houseplants (paint your hands green) and shout, "Blessed is the One who comes in the name of the Lord! HOSANNA!" and submit your clip by Wednesday, March 24.

For Easter, greet your LAC family by saying "Hallelujah! Christ is Risen! He is Risen Indeed!"

Please submit your recordings by Wednesday, March 31.
Call Crafters & Creators of All Ages!
As we move through this Lenten season and anticipate Easter, we invite you all to join the Sunday School classes this year as they are in the midst of 'hiding the alleluias.' We are inviting you to show off your artistic flair and color in the Alleluia design. We will be 'hiding' them as we await Easter when they can be revealed during Easter worship along with our celebration of the risen Lord! Please color and send in your art to 

LACoffice@lacny.org 

by Monday, March 29th.