Happy Black History Month, LAC!
This month, as we celebrate the accomplishments and contributions of Black Americans and rededicate ourselves to working for racial justice, we join with our fellow Presbyterians to honor Black PCUSA Leaders!
LAC is invited to join with others in our denomination for a special online service on Wednesday, February 24th, led by the Presbyterian Mission Agency's Racial Equity & Women's Intercultural Ministries. The service this year will be live streamed on the 
PC(USA) Facebook page
 starting at 9 a.m.
Below, you will find a list of some notable "Firsts" within our denomination, as well as a few resources for learning more about these incredible leaders and experiencing their work firsthand.
What (and who!) are you learning about this Black History month? Reply to this message to share what you are reading, listening to, and what questions are encouraging your learning. We'll compile your recommendations to share as we continue to learn and grow as a community!
With joy and curiosity,
Marranda Major
Church Secretary & Communication Coordinator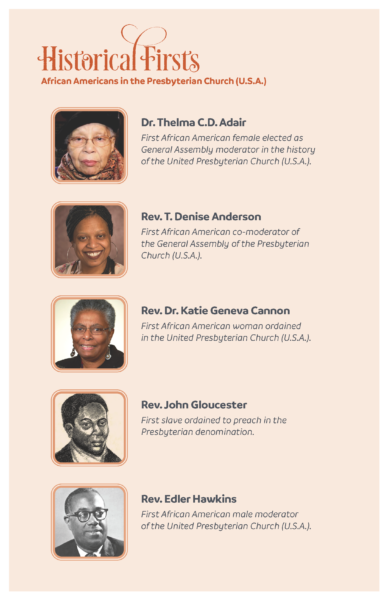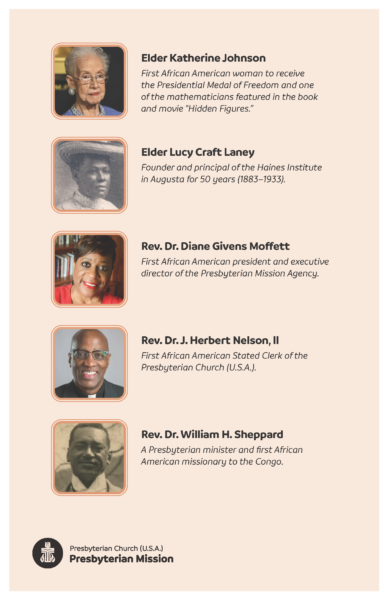 Feeling burned out and weary? Here [

LINK

] is a sermon from Rev. T. Denise Anderson about Ezekiel prophesying to dry bones and the Spirit bringing miraculous new life when we feel dead and dormant.

Rev. Anderson is a phenomenal preacher, and her message about the Church adapting to the needs of the community resonates for LAC in the COVID era.

Longing for some heady (and embodied) theology and a taste of Womanist ethics? Check out Rev. Dr. Katie G. Cannon's lecture, "Thinking with Our Hearts/Feeling with Our Brains: Testimonies of Faith that History Might Otherwise Forget"–accessible here [

LINK

].

Dr. Cannon skillfully weaves her lived experiences with important challenges for the academy regarding the myth of objectivity and what "embodied authenticity" might look like. This recording is from one of Dr. Cannon's last public appearances before her death in 2018.

Looking for material that is accessible for younger readers? Check out Elder Katherine Johnson's autobiography, 

Reaching for the Moon

, to hear Katherine's story, made famous in the film Hidden Figures, in her own voice. While focused on inspiring the next generation of STEM innovators, Johnson also shares her own experience of significant racial justice moments with a focus on how her community survived by supporting one another.