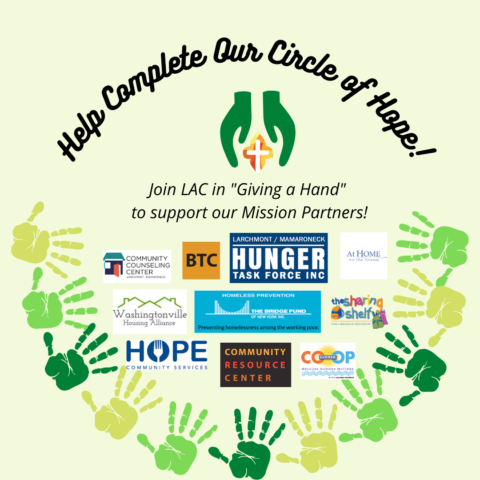 Each year LAC's Church and Society Committee distributes approximately $25,000 in grants to our Mission Partners, including such organizations as the Community Resource Center, the Larchmont/Mamaroneck Hunger Task Force, At Home on the Sound, the Community Counseling Center, HOPE Community Services and The Sharing Shelf. Unfortunately, for the second year in a row, COVID19 has prevented LAC from holding its annual Rummage Sale, which has historically provided a good share of the funding for these grants.
Can you help us help our partners? We have three generous donors who have offered to match the first $3,000 we raise. You can help by purchasing a Helping Hand for our Mission Partner Circle of Hope. 
Our goal is to encircle our mission partners in love and support and the financial support they need. 
One hand is $50; a pair of hands is $100. Donations of any size are welcome and can be made via 
Realm
: simply select "Helping Hands" from the Fund menu, or by sending a check to the Church Office (Attn: Gloria Haq) with "Helping Hands" on the memo line.
Consider buying a Helping Hand for each member of your household! Donors will be recognized on our Mission Partner Circle of Hope in our weekly newsletter.
Our Mission Partners continue to face unprecedented demand for their services. Together we can support their critical work.
Thank you,
LAC Church and Society Committee
Pat Allen, John Farris, Angie Leissl, John Irving, Kim Larsen, Clark Morehouse, Kim Christiansen, Rob Hitchings