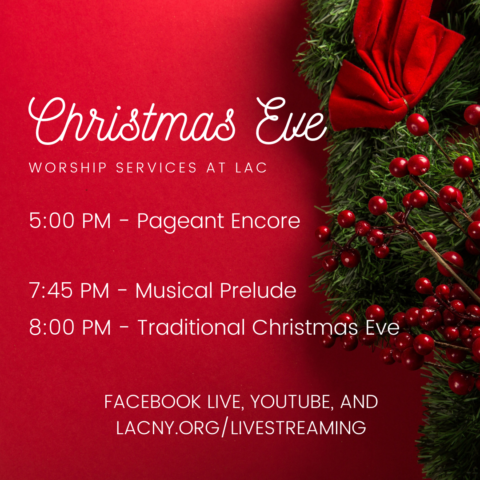 Merry Christmas, LAC!
On Christmas Eve, Larchmont Avenue Church will offer two opportunities for virtual worship:
5PM Pageant Encore: For little ones who need to be in bed early, we will have a second screening of our Christmas Pageant, complete with candle-lighting (or glow-stick snapping!)
8PM Traditional Service: LAC's Traditional Christmas Eve Service will begin with a special Musical Prelude at 7:45 PM. Please join us for festive music, a sermon from Rev. Jed Koball, and grab a few candles to join us in sharing the love of Christ! Download your bulletin here: [LINK]
This Christmas, may hope be born anew for you; may you be an agent of God's peace in our community; may joy bubble up as a song that transforms your heart; and may you share the love of God with everyone you meet.
With Joy,
Your LAC Worship Team
Another Opportunity for Contemplation
Even in this unusual Christmas season, the Holy Spirit is at work not only within us, but also within our Church. LAC's Elders have arranged for special lighting to illuminate the sanctuary windows showing the nativity scene so that all may experience the spirit through art and feel connected to our physical church home while we continue to worship online.
You are invited, starting after sunset on Christmas Eve through January 6, to walk, drive, bike, or skate by the Forest Park side of LAC to view the illuminated crèche scene. You can recreate the tradition of our candlelight service by bringing your own candles to light, and singing a verse of Silent Night as you glimpse Jesus in the manger. We hope this joyful sight will fill you with peace and hope, serving as a reminder that while we cannot be together in our glorious sanctuary, we remain connected with one another.