Sunday School 2020-21 kicks off September 20th! Classes will meet virtually from September 20th through (at least) January 31st. If you have any questions, contact our new Interim Director of Youth and Family Ministries, Ekama Eni at eeni@lacny.org or 914.834.1800 ext. 306.
Helping our children learn and grow in faith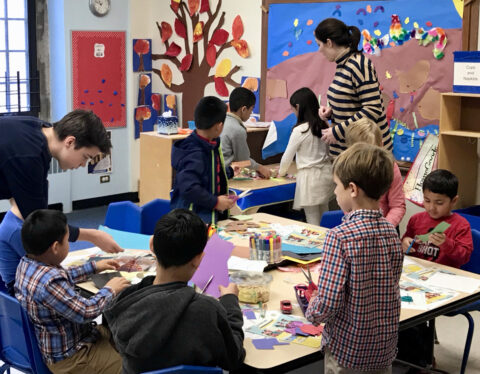 With programming for students ages 1 and upwards and teachers, teaching assistants ministering to our children from preschool through seventh grade is a top priority in our church family. Four out of five Christians make a conscious or subconscious choice about their faith between the ages of 4 and 14. These years are critical as a young person matures and forms a lifelong faith connection. Our goal is to help our children learn and grow in Christian faith through education, music, worship, service projects and fellowship.
During the COVID-19 pandemic, 2020-2021 Sunday School classes will be held virtually until at least January 31, 2021. Please see announcement above. Sunday School classes are offered for children as young as 1 year and continue through the seventh grade. Sunday School meets most Sundays during the school year. We will meet every other Sunday. On the Sundays we do not meet together a video with a message or lesson will be posted on the church's YouTube account.
Register for Sunday School
Simply fill out our online form for Sunday School Registration. Parents are asked to register their children each year, using a single form for all children in a family so that we can keep all information as up to date as possible.
Curricula
Toddlers learn from the God Loves Me curriculum published by Faith Alive Christian Resources. Weekly booklets teach Bible stories, covering the Old and New Testaments in one calendar year.
Lessons for preschool through 5th grade come from Dwell curriculum, also published by Faith Alive Christian Resources. Each age-appropriate Dwell curriculum spans two years and covers the Old and New Testaments completely. Children engage in fun interactive sessions that provide opportunities to personally enter God's story and learn to bring God's word into their day-to-day lives.
Grades 6 and 7 study the Old and New Testaments using the re:form Ancestors curriculum published by Sparkhouse. Students encounter and key figures and stories that held them see the similarities between themselves and their faith ancestors.
Offerings are collected in kindergarten and older classes. While no student is required to bring an offering, we want to teach children that giving is part of Christian life. Students are also invited to participate in mission projects and special collections during the year, such as the favorite "Fill the Ark" project benefitting Heifer International. During the fall stewardship campaign, students can use a special pledge card to promise to help with such projects, to serve LAC in one or more ways, and/or to bring an offering each week.
Nursery
During the COVID-19 pandemic, 2020-2021 our nursery will not be available. 
Click here to view our Child Protection Policy.
Review our Emergency Evacuation Plan here.