Saturday, March 12, 9:00 am - 12:00 pm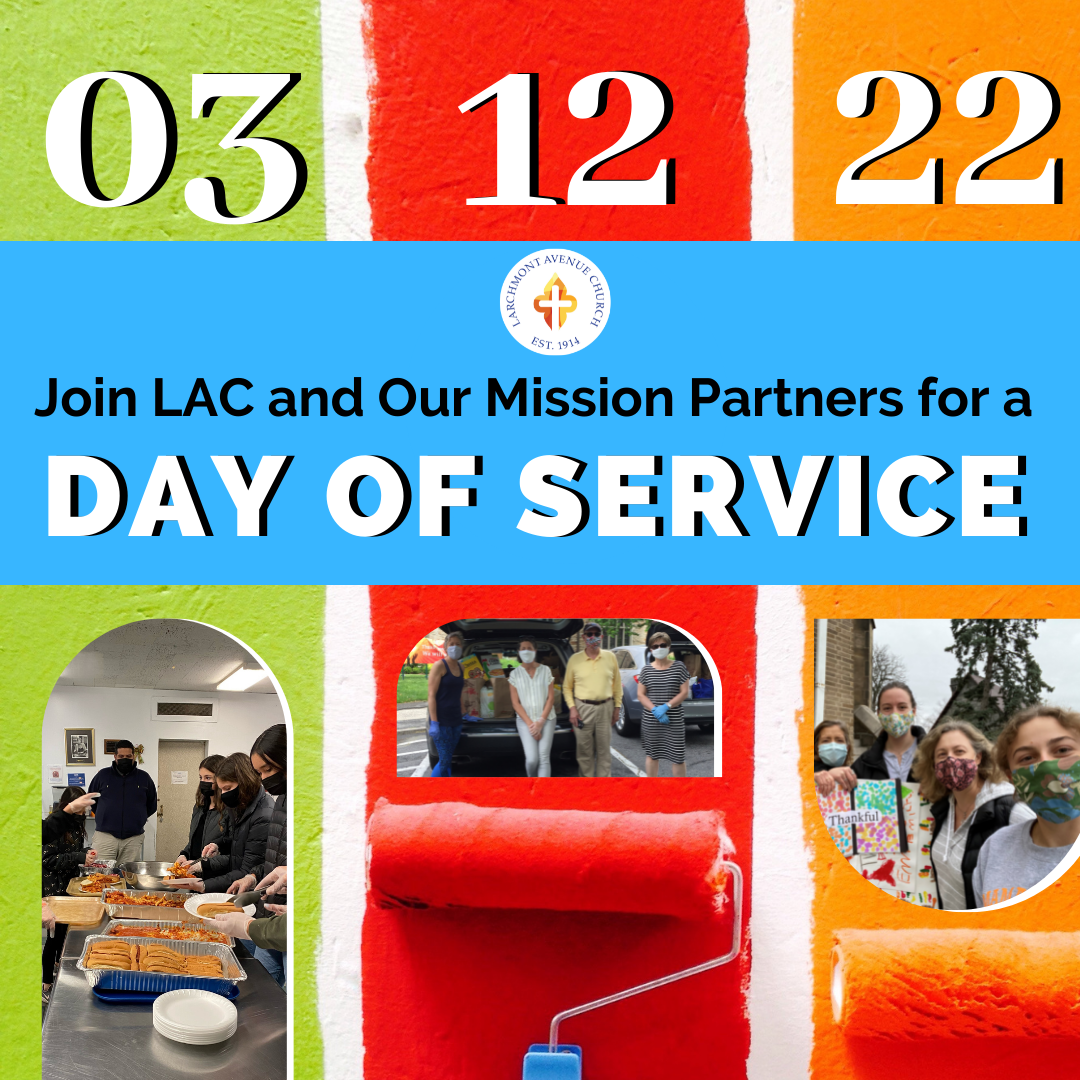 After a two-year hiatus, the Church and Community committee is thrilled to announce that Saturday, March 12th will be a Day of Service in support of our Mission Partners here in the Larchmont/Mamaroneck community, and beyond! We'll gather outside of LAC for coffee and doughnuts and a quick blessing before dispersing to our volunteer site!
We are working to assemble opportunities for all ages, as well as for folks who feel uncomfortable with in-person events but would like to participate  from home.
Register Here!
Mission Partner (Location)
Who May Participate?
Project Description
The Sharing Shelf (47 Purdy Ave, Port Chester, NY 10573)
• 10-15 Volunteers Needed
• All volunteers must be at least 14+ with vaccination and booster status. Masks will be worn at Sharing Shelf facility.
• Teens 14-17 must be accompanied by their own parent.

LAC volunteers will be sorting and organizing donations of new and gently used clothing and other items.

**Additional registration form required by the Sharing Shelf.

Group Coordinator: Pat Allen
Community Resources Center (134 Center Ave, Mamaroneck, NY 10543)
• 6-8 Volunteers Needed
• Volunteers must be 12+ with full vaccination and booster status.
• Some light lifting may be required.

LAC volunteers will help pack and empty the upstairs offices of the CRC so construction of new offices can begin.

Group Coordinator: Chris Templeman

HOPE (50 Washington Ave, New Rochelle, NY 10801)
• 8-10 Volunteers Needed
• Volunteers must be 12+ with full vaccination and booster status. Volunteers must also wear a mask inside the HOPE facility.


LAC volunteers will clean and reorganize, and restock the multi-room food pantry that serves thousands of clients in the New Rochelle vicinity.

Group Coordinator: Clark Morehouse

At Home on the Sound (LAC)
• 5 Volunteers Needed
• All ages welcome, but TGIF/SHIFT youth are encouraged!
• Masks are required when working indoors at LAC.

LAC volunteers will host a drop-in help desk for AHOTS clients seeking tech support.

Group Coordinators: Rob Hitchings & Garr Di Salvo
Midnight Run (LAC)
• 5 Volunteers Needed
• All ages welcome!
• Masks are required when working indoors at LAC.

LAC volunteers will assemble toiletry kits.

Group Coordinator: Jim Hanley

STEM Alliance Summer Co-Op Camp (LAC)
• 6 Volunteers Needed
• All ages welcome!
• Masks are required when working indoors at LAC.

Volunteers will create signs for the Summer Co-Op camp!

Group Coordinator: Meg Käufer

Larchmont Mamaroneck Hunger Task Force (HOME)
• No restrictions! Unlimited participants and all ages may join in!
Assemble condiment/spice bags that include small bottles of ketchup, mustard, hot sauce or mayonnaise, along with small bottles of regularly used spices for cooking including basil, oregano, cumin, paprika, thyme, and garlic powder that will be offered at the Tuesday food distribution.


Right 2 Counsel (HOME)
• 100 participants may join the Zoom, and while there is no age limit, we recommend ages 13+.
Volunteers will gather over Zoom for a email/letter writing campaign using the Right 2 Counsel digital toolkit.

Group Coordinator: Caitlyn Carpenter