Sunday, November 22, 6:00 pm - 8:00 pm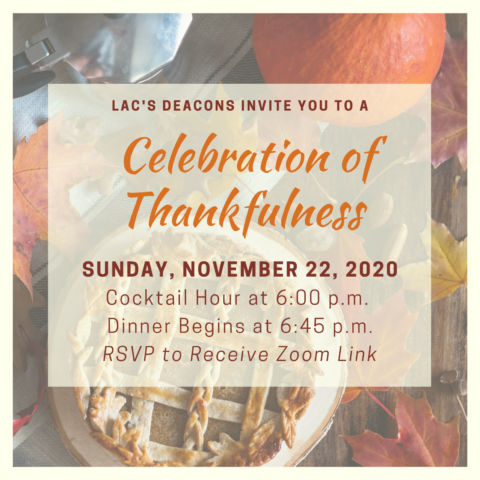 With a goal to organize parties of 8-10 people on ZOOM, we plan to start the event with a Cocktail (half) Hour from 6:00 until 6:30 pm.
We then plan to take a 15 minute break allowing us all to heat up dinner, (use the facilities, feed the dog, refresh the cocktails, etc.) and then re-join for the dinner ZOOM at 6:45 with 8-10 people other than your original group.
As you will be in the comfort of your home, the sky's the limit….surf and turf? Chicken McNuggets? Whatever works for you, this is meant to be a celebration of thankfulness!
Therefore: join us for the cocktail half hour…or the dinner…or Both! And bring the kids or leave them home. (Of course: that's a joke! As we are all a bit lonely during this Covid time, we will be so happy to see you!)
In terms of organizing the event, each of our Deacons will host a group and help to lead all our ZOOM conversation…and in doing so, they will be asking you to share something positive that has come out of this pandemic for you…with hope that this will also contribute to our thankfulness theme.
BONUS! All of our church members have the option of preparing one or more additional meals that can be shared with members of our church community. Just label it with ingredients and freeze it…we will collect these meals to store in the Church freezer and then share them with those in our community needing some TLC.
In closing: you can sign up by emailing Stephanie Piccone (stephaniepiccone@gmail.com) or Katherine Sinsabaugh (sinkny@gmail.com) with your preference of joining a ZOOM group for cocktails and/or dinner and we will reach back to you with a ZOOM invite.
So let's get going….find that recipe…email us back and count your blessings this season with your Church family.
With love from,
Your Deacons
Larchmont Avenue Church
October, 2020